Pediatric Dentistry in the Saginaw Area for Healthy Little Smiles
Dentistry for children is our top priority. Saginaw area pediatric dentist Aaron Blackwelder, D.M.D. is a pedodontist committed to providing your child with top quality gentle care in a warm and secure environment. Learning good oral hygiene habits early can lead to a life-long bright and beautiful smile. We'll guide you through the changes from baby teeth through your child's permanent teeth, and answer any questions you have along the way.
What parents love most about Lake Country Dental is all of the great advice we provide - everything from the best toothbrush and toothpaste, to advice on baby teething and information on how to prevent cavities. We enjoy working directly with you and your child to teach tricky skills such as flossing and brushing.
To schedule an appointment for quality pediatric dentistry, just fill out the form here on our website, or call us today at (817) 236-8771. Our friendly staff will be happy to welcome you to our kid-friendly, cheerful office.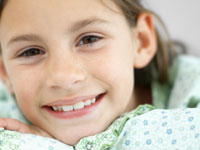 If you're looking for a highly-trained pedodontist in Tarrant County you've come to the right place. Dr. Blackwelder offers baby teeth dentistry that Tarrant County residents depend on for the highest quality dental care.