Gentle, Experienced Pediatric Dentist in the Weatherford Area
Give your kids an early start on a healthy smile for life. Weatherford area pediatric dentist Aaron Blackwelder, D.M.D., is a pedodontist trained to know and understand children's special dental health needs. From baby teething through the teenage years, we provide the personalized dental care your child needs to keep a beautiful, healthy smile that lasts a lifetime.
At Lake Country Dental our mission is to provide a welcoming, fun and positive atmosphere in which your child can learn the important dental health skills like brushing and flossing. Give your kids a great start on a lifetime of good dental health by contacting us today. Dentistry for children is about more than losing baby teeth and the tooth fairy. We'll make sure that your children develop a positive attitude toward good oral health and visiting the dentist.
Make an appointment today with a caring children's dentist by calling our friendly staff at (817) 236-8771 or by filling out our online form. And please be sure to contact our staff if you have any questions. We'll be happy to answer them!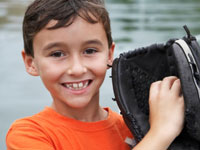 If you're looking for quality pediatric dentistry in Azle you don't need to look any further. Pedodontist Aaron Blackwelder, D.M.D., is the baby teeth dentist that Azle residents trust to deliver experienced and professional dental care.